ABOUT US
~ Dominick M. Geraci, Executive Chef ~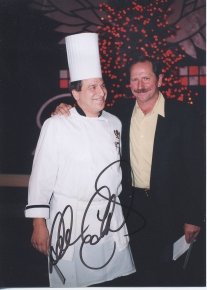 Growing up in an Italian family, the love of food came at an early age, and thus inspired Dominick to delve into the culinary field. What better place than eastern Long Island, NY, amidst the vast farmlands and bountiful vineyards, all surrounded by pristine waters, containing glorious fish and shellfish to cultivate the fine dining experience. There, he learned everything he could about food preparation and presentation.
With this culinary enthusiasm in mind he joined the U.S. Navy to travel, see the world and become skilled in food preparation. While serving in the U.S.Navy, he achieved the position of the Captain's Personal Chef. There he had the opportunity to prepare meals for various foreign leaders and dignitaries...
Read More about Chef Dominick Geraci »
To further enhance and fine tune his culinary skills, Dominick enrolled in the Culinary Institute of America, one of the finest culinary institutions in the country, where students spend over 1,300 hours in the kitchen or bakeshop, more than any other culinary school in America. Since graduation he has had the privilege to hold many prestigious positions.
As the Private Chef for a prominent executive in Dallas, Texas, his professional expertise was further enhanced, hosting many catered affairs, entertaining the likes of The Gatlin Brothers and Crystal Gayle, dinners for business associates, as well as close friends stopping by for an afternoon of socializing.
In the corporate world, he has opened numerous Corporate Executive Dining facilities in the New York metro area, most notably as the Executive Chef at the Dean Witter, Reynolds offices that were located in 2 World Trade Center.
In June of 1997, he was officially recognized in the filming of the made-for-TV movie, "The Patron Saint of Liars", starring Dana Delany, and Sada Thompson. Having the honor and privilege to create many dishes that were used as "food props" during the making of this film.
A highlight of his career came in 1998, as the Executive Chef of the late, great, NASCAR legend, Dale Earnhardt. There he was responsible for the opening of the racing complex known as the "Garage Mahal" and for numerous catered events involving prominent NASCAR officials and drivers. While either at the track, or at his racing complex, he was constantly surrounded by dedicated professionals whose simple motto was, "To be the best of the best."
Now, as the Chef and proprietor of Culinary Solutions, our goals and philosophy hold true to the same: "To be the best of the best." We do this by working closely with clients in menu creation, presentation, and execution. We want our clients and their guests to have an outstanding and memorable experience by consistently exceeding their expectations with excellent food and outstanding service.
We look forward to serving you,
Bon Apettit!
~ Chef Dominick
~ Our Skillful Staff ~
Hands-on ownership of Culinary Solutions ensures the continuity of our vision. This is our life and livelihood, and we consider it an honor to be called on to be your partner in your most important functions. We look for people who are as passionate about providing a high-quality food experience as we are.
Our staff is carefully selected and trained to assure the professionalism you expect from a premier caterer. Not only do they enjoy working for us, but they are considered members of our extended family. They truly live their craft.
Since 2001, Culinary Solutions has been a premier caterer in the Charlotte Metro area, and has access to the most professional staff, and has on hand an expert culinary team to execute any menu. We work side by side with you, ensuring your catered event is executed flawlessly and your expectations are exceeded.
Here's what some of our clients have to say about Chef Dominick Geraci and Culinary Solutions...
Dominick is highly innovative and adaptable. He can orchestrate a "culinary solution" for a small intimate crowd, box lunches for a corporate affair or create a unique, delectable banquet for a large party, with panache.

On the occasion of an office party in our home, Dominick prepared a highly varied selection of hors d' oeuvres, ranging from the known to the exotic. His Duck Rilletes were scrumptious! Not one guest failed to comment on the superb fare!

We are delighted to be able to convey what an incredible job Dominick did in serving our needs. We would recommend him highly to anyone contemplating a personal chef service or caterer!
Tom and Therese Wittenschlaeger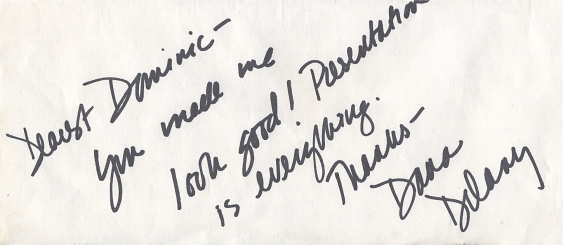 Food props provided on the set of the movie "Patron Saint of Liars" starring actress Dana Delaney
Dominick,

I just wanted to let you know how much Dale, myself and Taylor enjoyed the evening last Friday. Everything was wonderful!

Thank You Very Much,
Teresa
A surprise birthday dinner planned by Dale Earnhardt for his wife Teresa
Dominick,

Thank you again for a great evening. Look forward to working with you again in the future!
Robin LaVecchia
Dear Dominick,

Thank you so much for catering our party on Saturday. The food was outstanding – The service was thorough but never obtrusive – The displays were just first rate!

The hosts and guests were very pleased.
Beth Nowack
Dear Dominick,

Once again, thanks for a perfect event! Looking forward to many, many more!
Dr. Betty Ostrow